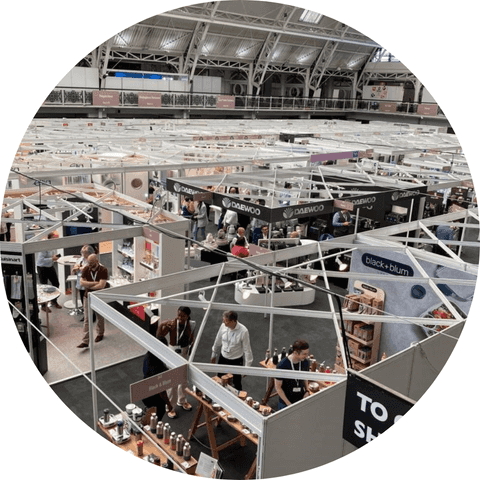 23/02/23
The future of exhibitions and trade shows 
There is growing optimism about what lies ahead for live events with virtual combined as a more inclusive and valuable experience.
Based on visitor numbers and exhibitor bookings going forward, it seems we are all enjoying or looking forward to the chance to gather in person again after imposed isolation and restrictions.
Online meeting has been a revelation and a saviour – and for time-saving and sustainability reasons alone will remain a vital part of the new mix. But face to face has real networking and trading benefits that no virtual solution can entirely replace.
So, maybe no surprise that event creators have marvelled at the resilience of their teams and the industry overall. There is ever-growing optimism about what lies ahead for live events with virtual combined as an even more inclusive and valuable experience.
Trade shows, but not in a way we're used to
The general feeling from our contacts within the industry is that trade shows are making a comeback but not in the way we're used to. One of the biggest lessons from the last few years is that trade shows are becoming substantially more practical to attend as they reassessed including going viral.
Exclusively 2023 as an example is already near to selling out thanks to its level playing field standard package for all exhibitors. It is up to individual companies to dress and maximise their space, be on trend and promote their presence. The result is no self-indulgence, and no waste. There is even a special deal for small companies and start ups in the market to use the Exclusively Launchpad area to get an influential foot in the market.
A shift to virtual events?
We believe that trade shows will continue to have an in-person component moving forward, as trade shows have always been places to network and learn about new products and services. But it is likely that we will see more and more events shifting to a hybrid model (capturing both in-person and online audiences) that allows more focused experience between buyers and sellers.
The pandemic kickstarted a huge shift to virtual events and many of our clients such as BHETA embraced the medium for things like webinars as a means of reaching out to their members while its in-person forums were unable to take place live. Now they are back – with a super-successful live event with Toolstation taking place in February – but the online format will very much be retained wherever more practical and appropriate.
Enter the new reality
There has been a lot of interest around experiential events to create stand out among hundreds of exhibitors at trade shows. Experiential marketing has been embraced by many retailers in recent years but is being seen more and more at trade shows.
Examples include product demonstrations, cooking masterclasses, themed photo booths using bespoke hashtags for sharing on social media, or virtual reality whereby you can upload your space and visualise what certain elements would look like in your home.
One exhibitor at Taste of Design 2023 - a high-class; low-cost roadshow - targeting interior design professionals, launched a survey tool at last year's show to help with the measurement and installation of products into clients' homes or commercial properties. Its clever technology allows interior designers to photograph all window types and save projects for an instant estimate.
The technology to visualise products in your home or garden has been around for years but, as the tech advances, many more manufacturers are utilising it to promote their products to potential stockists or distributors.
Looking to promote your presence?
If you are taking part in a trade show this year, why not get in touch with the comms team at Brookes & Co? We can help you with press media relations, building brand awareness or event management.
Get in touch