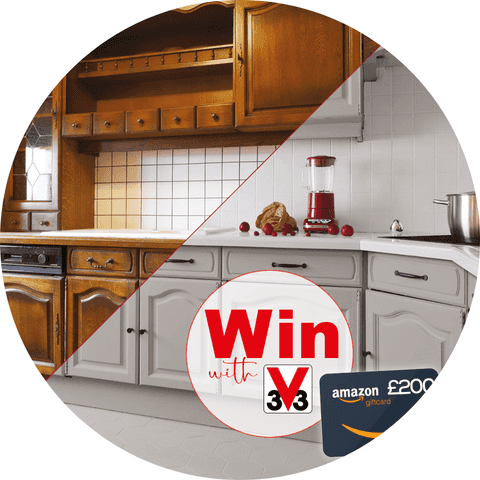 01/03/23
Using photo competitions via social media to generate new photo library
Brookes & Co uses social media photographic competition to generate photo library for client, V33.
When one of our clients needed some decent photography to showcase the transformative effects of its range of specialist paints, we came up with a novel and low-cost solution.
V33 supplies the retail market with its range of 'Renovation' paints which includes options formulated specifically for certain DIY jobs. Think upcycling kitchen cabinets, painting wall tiles, upgrading stairs and floors, and generally being able to paint over a multitude of interior surface types.
As part of our comms planning we were short of decent before and after shots showing exactly how the products improved the look of each room in which they were used.
Before & after photos
.The client didn't have the budget for expensive room set hire, so we thought we'd get buyers of the products to do the photographic work for us! Into the planning mix went a photographic competition held on V33's social media channels. We asked buyers to send us images of their DIY project before and after application of their purchased V33 product. We offered Amazon vouchers to the entrant with the best photos.
Winning entry
The competition worked like magic, and we ended up with a great selection of images. We made sure to ask entrants to give us permission to use their pics on any channels. In addition, we generated some great case studies which we could additionally use for PR purposes with customers saying how much they loved the products. As the icing on the cake we also produced a short video to showcase the winning entry, which we also promoted through boosted posts on social media.
The client was so pleased with the results that we've been asked to repeat the process all over again and we're also rolling it out with another brand for the same business.
Find out more